Hi!

I've been a member of Glee_TV and a Gleek since the show started, so I want to thank the moderators for letting me post here. I wanted to let everybody know about a chance to win a copy of a book I think you'll like.
RIVAL, published by HarperTeen, is about two singers in a competitive high school music program. They used to be friends, now they're enemies, and they're getting ready to go up against each other in a major contest. Some of my readers have described the book as "Glee goes to the opera" (because my characters sing in a classical choir instead of a glee club). RIVAL is inspired by my own memories if what it was like to sing in a competitive music program—I was in my school's Chamber choir and Glee club, which we called the Pops Choir. (You can see photos of me in Pops and read a post about about my inner Rachel Berry right here.)
I want to share my book with other Glee fans, so I'm giving away two signed copies. Just email sara(at)sarabennettwealer(dot)com and put the word GLEE in the subject line. If you Tweet, Facebook and/or post about RIVAL on Tumblr, etc. I'll give you extra entries. Just put the links in your email. I'll do a random drawing July 4 after I get done watching fireworks.
Want a bit more info on RIVAL? Here you go!
You can find out even more at my website: www.sarabennettwealer.com

And here's what the cover looks like: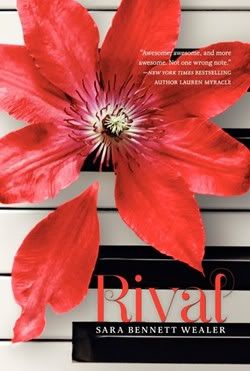 Thanks, everybody, and good luck!